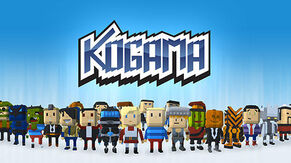 KoGaMa
is a multiplayer game that you are entitled to control the mouse and keyboard, and create an account, since the
Tourists
are different, they have no right to brand, build a world.
More About KoGaMa
KoGaMa is a 3D multiplayer online sandbox construction game created by Multiverse ApS, in which users play, share, and create games within their browser.  By creating terrain and using game logic, users can create anything from an adventure game to a battle game.
There isn't any required payments in order to play KoGaMa, but gold cubes may be purchased in order to unlock exclusive content.  In order to play, the user must first download a Unity Webplayer.